CREC MEMBER NEW BOOK ON POPE FRANCIS' COMMUNICATION
25 janvier 2020

Posted by:

Fabrizio Colombo

Category:

News
What is the secret of Pope Francis, which causes millions of people, even those not interested in religion, to become passionate about his message? How can you be such a good communicator? Aleteia journalist and CREC member and trainer Ary Waldir Ramos Diaz tries to answer this question in his book "Be authentic – Siate Autentici" (Edizioni Lavoro).
On the shoulders of the « giant »
The Pope has millions of « followers »: the news about him creates infinite interactions in social networks and produces avalanches of web pages that are visited every day.
Understanding Jorge Mario Bergoglio's communication means approaching the mystery of an inclusive communication, full of values, open to diversity and the creation of a community. In this digital age, in which we sail adrift in the sea of disinformation, we have the opportunity to « get on the shoulders » of a communication giant to learn some lessons.
Thus communication can become a service to the family, work colleagues, employees and friends; to build bridges also towards those who hurt us, oppose us or place obstacles. A communication that can touch minds, hearts and hands, to build relationships and change what does not work.
Communication that reconciles people
Be authentic – the central message of Bergoglio's communication – is a title that denotes « we », a noun of the verb that indicates our social nature – as an enhancement of the best version of ourselves – which will be effective only and only in the relationship with the others. This means – highlights in the book Ramos – find the counterpoint in the harmonic concordance of distinct, opposite or distant voices. The goal is a communication aimed at reconciliation, dialogue, understanding, forgiveness and enhancement of diversity and otherness.
Far from the « wolves »
Pope Francis who, with his testimony, communicates more than a thousand encyclicals. His is a non-violent communication, notes the author of the book, which differs from that of the masters of persuasion, propaganda and the « business » of communication. Communication aimed at communion and the community, far from the model of « wolf » communicators, bold in deliberately distorting reality and in manipulating convictions and emotions.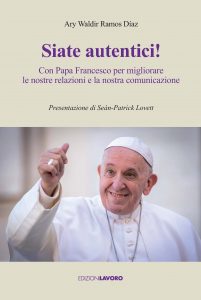 The language of the heart
Pope Francis recommends using the language of the mind, heart and hands. We will explore these three languages with the implicit Jesuit recipe of « thinking, feeling and doing ». In Francesco we find extraordinary gestures: he communicates with his hands like deaf-mutes to say « I love you », he takes a cancer patient on his lap and talks to his friends forming a circle, he cries and consoles a priest martyr of communism, and he embraces in front at the Wailing Wall two friends, a Muslim and a Jew.
International leader
Each of his gestures communicates and leaves a mark, pieces of experience, feelings, symbols, demonstrations that serve to understand the power of communication and make him not only the guide of Catholics all over the world but a leader of international communication.
(© Ateleia)